Quantum Physical Therapy, LLC is an outpatient physical therapy clinic that first opened its doors on January 3rd, 2005 in Teaneck, NJ. On October, 2016, we relocated to a bigger facility in Hackensack, NJ. We are now situated directly across the street from Hackensack City Hall and Fire Department Headquarters, and Police Station. Our new office has on-site parking and the entire building is handicap accessible.
Quantum Physical Therapy, LLC provides a variety of rehabilitation services through conventional, alternative, and the latest advanced methods introduced in the field of physical therapy. We do not limit ourselves to any one type of treatment approach because each individual patient will respond uniquely to various types of therapy.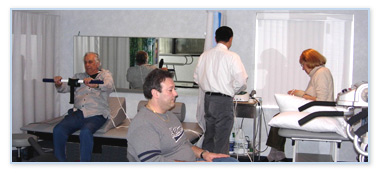 Our wide-ranging physical therapy services include orthopedic and sports rehab, treatments for work and accident-related injuries, stroke rehab, pain management, pediatric and geriatric physical therapy, and so on.  We guide each patient throughout the rehabilitation process, from the time you first walk through our door to the time you are discharged from our care.  Each Physical Therapist spends quality time with every patient to make certain that they understand their injury or condition, and how the prescribed treatments work to take care of the problem area.
Note About Our Managing Physical Therapist
Robert C. Leu, M.S., P.T., C.E.A.S. has been working in the field of Physical Therapy since 1992. He received his Physical Therapy Masters Degree in 1999 from Mercy College, Dobbs Ferry, NY. He has vast experience from working at many different facilities in the New York area, from Geriatric Nursing Homes to Outpatient Sports and Orthopedic facilities. He was also involved in Early Intervention treatments in the home care setting for children ages 0 to 3 years from 1999 to 2005. Robert has excellent knowledge in treating common disorders including: Low Back Pain, Carpal Tunnel Syndrome, Rotator Cuff Syndrome, Anterior Cruciate Ligament (ACL) Tear, and Treatment of Knee and Hip Replacement before and after surgery.  He is a Certified Ergonomics Assessment Specialist. He also has certifications in Myofascial Release Technique, and Kinesio-Tex Taping Technique, and continues to take many courses and seminars about the latest Physical Therapy treatment procedures.
Robert has a black belt Aikido-Jujitsu.  Impressive as that may be, his physical therapy skills are even more exceptional.  His patients like him because of his enthusiasm and personable bedside manner.  Robert has an adventurous and active lifestyle. In his spare time, Robert loves to play golf.  He also enjoys playing tennis and chess.  He used to be an avid skier, and is also a PADI certified diver.  Besides his love for golf, he loves spending time with his family.